Al Jubail Bus Station
Table of Contents
Al Jubail is a waterfront community in Sharjah located at the western end of the emirate. In the neighborhood, there are apartment buildings with 1 to 4+kk. It is home to the Sharjah Birds and Animal Market and Souq Al Jubail, one of the largest indoor fish markets in the region. 
The residential area is located to the west of Al Arouba Street and King Faisal Street. SRTA Al Jubail bus Station is the main bus station in Sharjah where you can travel to all the other cities by bus at an affordable price
Location Of Al Jubail Bus Station
Located at Corniche St. al Jubail area in Sharjah. New Sharjah Tower, Sharjah Gold Souq, and Souq Al Jubail are the Main landmarks near Al Jubail bus station in Sharjah.
It is connected to Satwa Bus Station with Bus 304.
Intercity Buses From Al Jubail Bus Station
All intercity buses start from Al Jubail bus station in Sharjah. Here is the full list of buses:
Sharjah Intercity Bus List
Sharjah Bus Service From Al Jubail Bus Station
Sharjah buses start from Al Rolla bus station. there are a total of 11 buses available from Rolla but only 6 buses have stops at Al Jubail bus station:
Attractions
Nestled in the scenic Al Jubail area, the Bus Station serves as a convenient gateway to explore neighboring cities via Sharjah intercity buses, making it the perfect destination for weekend family getaways.
Main Attractions Near Al Jubail Bus Station:
Al Noor Mosque
Buhaira Corniche
Al Muntazah Park
Al Ittihad Park
Birds & Animal Market
Souq Al Jubail
Top 10 Hotels
Crystal Plaza Hotel
Red Castle Hotel Sharjah
Dana Hotel
Aldar Hotel
Nejoum Al Emarat
Al Jazeerah Hotel
Sama Hotel
Ibis Styles Sharjah
Sahara Beach Resort & Spa
Sharjah Royal Tulip Hotel Apartments
Restaurants
Al Kabab Al-Afghani Al Jadeed Restaurant
Sadaf Restaurant
Al Maskoof Al Iraqi Restaurant
Isfahan Restaurant
Al Jubail 1441 Restaurant
Souq Al Jubail
Bait al Shai al Sailani Cafeteria
Shopping
For Shopping Sharjah Gold Souq is the main shopping destination nearby, you can shop for gold jewelry, traditional clothes, and many more. Jubail al Souq is also near the Jubail bus station which wants to shop for fresh vegetables, fruits and dates, and meat so this is a huge and clean place for shopping.
Big Shopping Mall is not available near Al Jubail bus station but City Centre Sharjah is 4.0 Km away from this place. You can shop all the brands there and also when feeling hungry then can also enjoy the food.
FAQ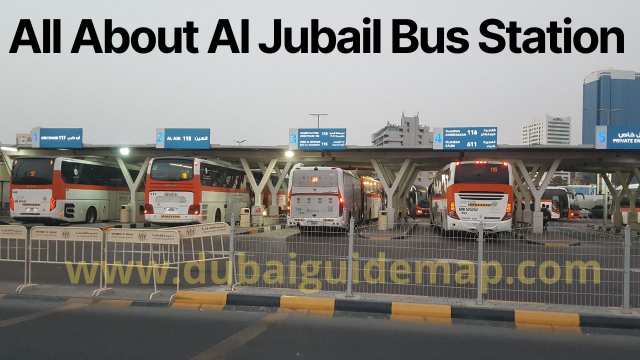 Is there any direct bus from Sharjah To Abu Dhabi?
Yes, Bus no.117 directly going from Al Jubail Station to Abu Dhabi
How can I pay on the Sharjah bus?
You can cash or use a Sayer card to pay on Sharjah buses.
What time does the Al Jubail bus station open?
Al Jubail bus Station is open 24/7, and you can get buses for all the emirates from Al Jubail bus station. bus timings depend on their routes and availability
How far is Sharjah Airport from Al Jubail station in Sharjah?
the distance between Al Jubail bus station to Sharjah airport is 16 km. you will reach in 18-20 minutes in a taxi and the bus takes approx. 1 hr. to reach the airport
Is there a bus from Sharjah to Khor Fakkan?
yes, bus no. 116 is the direct bus from al jubail station sharjah to khor fakkan