Gold Souq sharjah Timings, price, shops & rates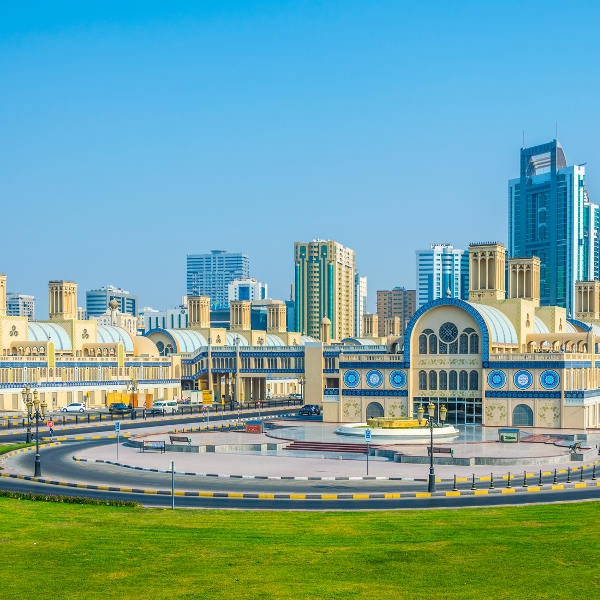 The souq is not only a hit among mothers with children but among elderly men as well Situated between the bustling roads, the sound of car horns and busy flyovers lies the Central Souq — a tranquil spot that still maintains a certain charm since it was constructed over 42 years ago.

The Central Souq (also known as the Blue Souq due to the color of its domes) was built in 1978, and was the first infrastructure in the emirate that embodied the idea of a modern shopping Centre. To this day, the two-storey souq contains about 600 shops in two wings, and can be seen on every Dh5 note.
The Gold Souq Sharjah displays a majestic flare of Arabic architecture and when it was first opened, residents from the neighboring emirates of Abu Dhabi and Dubai would make it a point to visit the souq and buy the latest designs in textiles and fabrics. Covering an area of 80 square kilometers, residents from all over the country were soon familiar with the souq's structure and the building became an iconic landmark in the emirate.
The ground floor has mostly modern jewelry, watches and clothing, while the little stores upstairs sell a variety of items such as gold and silver jewelry, pashminas, rugs, traditional coffee pots and home ornaments.
Although the souq continues to host a number of shops and cafeterias, the popularity of the shopping area has slowly dwindled over the years. Families no longer visit the souq as part of an outing when visiting Sharjah, and it has become a place that is now only frequented by loyal customers or tourists.
Mohammad Yasin, the owner of Al Arooj Jewelers, specializes in silver jewelry and has been running the shop since 1980. "I still have many loyal customers and they all know me well because my shop was one of the first to open here. This business was handed down from my grandfather to my father, and then to me," said Yunis, although he points out that his son has no interest in taking over the shop.
Yasin fondly remembers when he first arrived to the UAE in June 1971, and first opened his shop at the Dubai Gold Souq. "The rents were always cheaper in Sharjah, so that's why I changed location. At the time, the Central Souq was very popular and a good place for business."
Vachhani Prakash, who has owned Lata's handicraft and gift shop on the souq's second floor since 1985, said that he has mostly Emiratis and tourists visiting his shop, since it has a reputation of providing unique items that cannot be bought elsewhere in shopping centers.
Prakash buys his products from all countries in the Eastern countries, such as from Morocco, Syria, Egypt and Thailand.
"Most of my products are made from silver and because of the market, prices have gone up and prices have risen. Nowadays nobody's interested in spending a small fortune on home decorative pieces but I don't mind [on] keeping my business running here," said Prakash, who said he was considering opening another branch in a shopping Centre in Dubai.
Some of the souq's charm is finding high-end quality products at a bargain, as most shopkeepers are more than willing to lower the price for potential customers.
One of the shops that continues to thrive and has a reputation among local residents is the shop of Ayakub Chaudhry, who sells carpets and rugs from Iran, Kashmir and Pakistan.
"Whatever you are looking for you can find it here. The architecture of the building provides a certain tranquility that you cannot find anywhere else. Although its not as popular as it used to be, people still visit the souq because it is one of the most iconic landmarks in the city of Sharjah," said Chaudhry, as he pointed out that customers continue to show an interest in one of his most prized items on display, which includes a silk Iranian carpet of 1,000 knots priced at approximately Dh40,000.
As you head away from the silver and handicraft items on the second floor, and head on down to the ground level, the area is mostly filled with shops selling gold jewelry and fabrics. Many of these shops continue to function after 25 years of its launch, and still provides a haven for tourists who seek shelter away from the scorching heat and who are interested in delving into the Arabic theme of architecture.
"When I first opened my shop, there was no central air-condition and because the souq was built with wind towers, the area was naturally cooled down. The place was also very popular when it first opened because it provided customers a place to walk easily and even do some light walking exercise at the same time," said Abdul Ghafoor Mohammad, 50, an owner of a textile shop.
Mervat Mustafa, who has been visiting the souq on a regular basis for the last four years, said that she enjoyed purchasing her items from this area since it was one of the few places where you can still bargain.
"Wherever you go, the shopping centers all offer the same thing. So I really enjoy coming here twice a week to see what latest items they have, and try to get the best discount possible. I am used to coming here and still prefer it to anywhere else," she noted.
The souq is not only a hit among mothers with children but among elderly men as well, who buy their dishdashis, gotras and their algal (men's clothing) from shopkeepers that they have befriended over the years. Abdul Kadir Mohammad, an Emirati who has been visiting the area for more years than he can remember, said he enjoys visiting the souq because it is not only filled with shopkeepers but friends as well.
"After so many years, the shopkeepers become your friends so going over to the souq does not seem like a chore but more like an opportunity to visit friends. We catch up on each other's lives, talk about the news around us and it is a place that I find more enjoyable to visit than anywhere else."
Located on the shore of the Khalid Lagoon, it is most beautiful at sunset, seen across the water. The Central Souk consists of two large buildings, interconnected by bridges, with exuberant vaults and a unique skyline of 20 windrowers. gold souq Sharjah location is nearby Al Majaz 1 King Faisal St, Sharjah United Arab Emirates .
Al buhaira Corniche , Khalid lagoon, Sharjah, united Arab emirates
Gold Souq Sharjah Timings
9:00 am to 10:00 pm (Saturday to Thursday)
05:00 pm to 10:30 pm (Friday)
Contact: +971-6-556-6777
Gold Souq Sharjah Architecture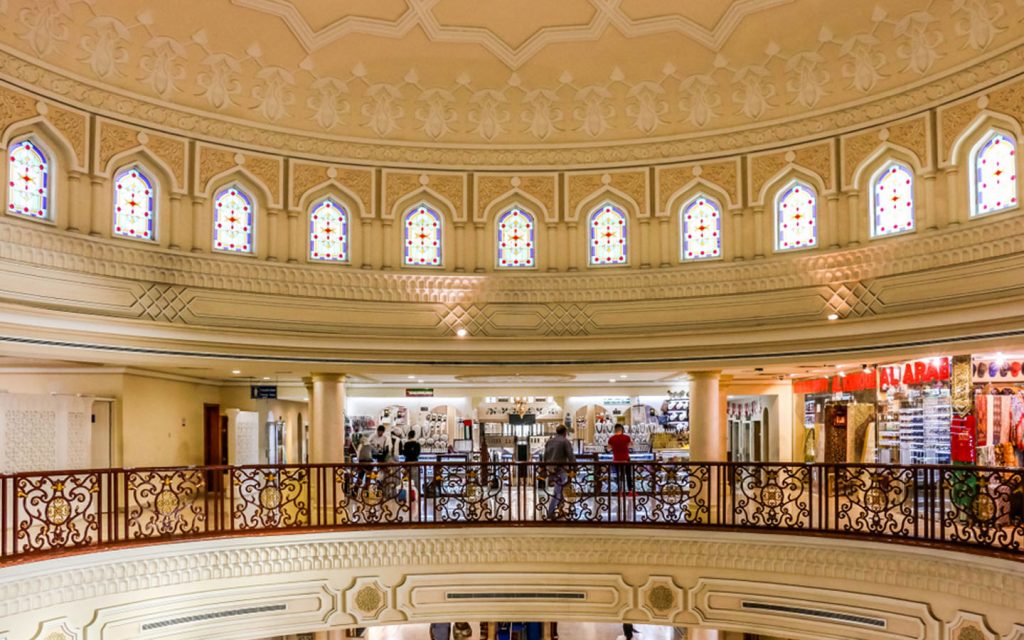 Gold Souq Sharjah is considered an iconic cultural landmark that has two large market buildings connected through footbridges.
One building overlooks the beautiful Khalid Lagoon while the other faces the famous King Faisal Mosque.
Some of the blue tiles at the outer walls of the market also has Quranic verses printed on them that represent the religious aspect of traditional Arab culture. Note that the Blue Souk is called so because of the prominent blue colour that is visible on the domes and classic blue tiles on the walls.
The credit for the admirable architecture of the souk goes to the British architects, Michael Lyle and Partners.
The Ruler of the Sharjah, HH Sheikh Dr Sultan Bin Mohammed Al Qasimi, also contributed to the architectural design of the building by giving suggestions and guidance to the architects throughout the project.
How To Get to Gold Souq Sharjah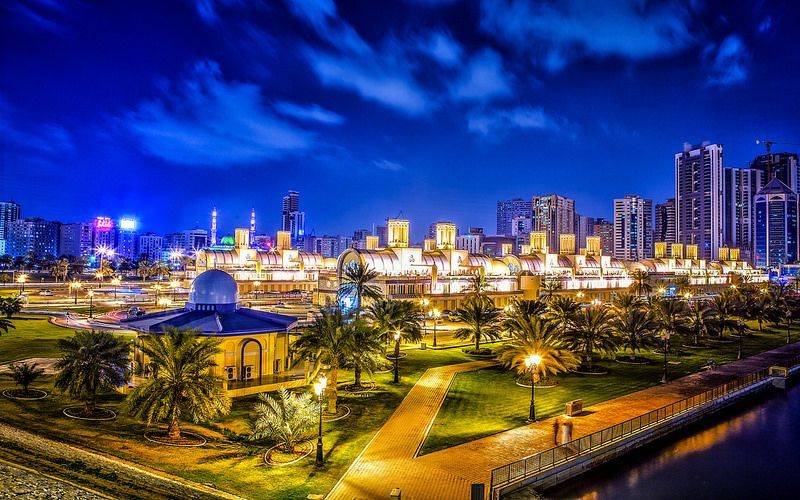 Wondering how to get to Gold Souq Sharjah (Central Market) in Dubai / Abu Dhabi, United Arab Emirates? This article helps you find the best way to get to Sharjah Gold Souk (Central Market) with step-by-step directions from the nearest public transit station and find out how long does it take to get to Sharjah Gold Souk (Central Market) in real time.
Looking for the nearest stop or station to Sharjah Gold Souk (Central Market).You can get to Sharjah Gold Souk (Central Market) by Bus. These are the lines and routes that have stops nearby –Bus: E303, E303A, E306, E307, E400.
If you plan to visit gold souq sharjah by bus so you can take above given no. buses to reach hassle free to gold souq sharjah. the bus stop is few steps away from the gold sou sharjah. or if you wish to go to the main bus stand so al Jubail bus station Sharjah is also very near to the gold souq.
if you coming from Dubai to Sharjah by bus so you will get these buses easily from union bus station because union bus station is attached to union metro station this is an interchange metro station so its easy to get bus from union metro station.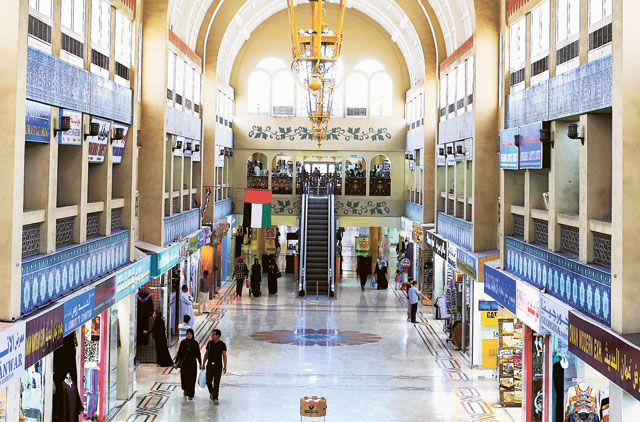 Boasting over 600 shops, Central Souk Sharjah is a destination offering a unique shopping experience with old local merchandise as well as international brands. Blue Souk Sharjah has numerous stores dealing with a range of different commodities including clothes, antiques, perfumes, diamonds, furnishings, handicraft, jewellery, household appliances, carpets, fashion accessories, electronics and so much more. Handmade toys and handwoven textiles are also some of the specialities of the Souk.
Many of the products sold in the market are imported from the local markets in Pakistan, India, Indonesia, Morocco, Iran, Kashmir and Syria. Carpets and Pashmina shawls from Kashmir are especially popular among tourists because of their quality. There are a number of old gold and silver shops that sell rare jewellery and precious stones.
The experienced jewellers at the Blue Souk can also design jewellery as per the customer's preference. Visitors will also find gold coins, silver pots and decorative pieces at the shops in Blue Souk. Gold Land Jewelry is one of the most popular gold shops in the market. Other popular shops include Al Arooj Jewelers that specialises in silver and Lata's Handicrafts which has unique traditional Indian jewellery.There are also some coffee shops and eateries in the souk that offer delicious food which visitors can tuck into after a tiring shopping session.
Dubai Gold Souk or Gold Souk, is a traditional market in Dubai, UAE. The souk is located in Dubai's commercial business district in Deira, in the locality of Al Dhagaya. The souk consists of over 380 retailers, most of whom are jewelry traders.Dubai is truly a shopper's paradise. The city is home to some of the most popular brands and designers when it comes to fashion, perfumes, accessories and jewellery. 
Facilities For Visitors In Central Souq Sharjah
The Central Souk Sharjah caters to a large number of shoppers every day. To improve the customer experience, its exteriors and interiors have been renovated a number of times. The addition of air-conditioners, renovation of the floors and women's prayer area are some of the initiatives undertaken to upgrade the Blue Souk. The souk has also been through changes to facilitate people of determination.
Those interested in visiting the souks in Sharjah will certainly enjoy a trip to this cultural landmark.
Other emirates also have numerous traditional souks with a vibrant, bustling atmosphere. Despite having a reputation for housing the best modern shopping malls, there are many traditional souks in Dubai. Some of the most popular souks in Dubai include Old Souk Dubai, Souk Madinat Jumeirah and Dubai Spice Souk.
Abu Dhabi souks also attract hundreds of tourists and residents for a great shopping experience. Mina Zayed Souk and Qaryat Al Beri Souk are the most popular ones in the emirate.
Some of the other popular modern shopping destinations in Sharjah include shops at Sahara Centre and Mega Mall Sharjah. Deemed as one of the best malls in Sharjah, City Centre Sharjah also offers a great shopping experience to visitors. It has an array of the stores, food shops, entertainment options and a lot more to offer.