The RTA Dubai Tram is the city's latest mode of public transport. It opened to the public on November 12, 2014.
Trams loop around Dubai Marina and Jumeirah Beach Residence and then head off down Al Sufouh Road into Al Sufouh passing Dubai Media City, the Palm Jumeirah, the Dubai Pearl, and Dubai Knowledge Village
Dubai trams are an important part of the city's public transportation network, providing passengers with maximum comfort, safety, and protection. With 11 stations and routes to various landmarks including Dubai Marina and JBR, Dubai Tram is a convenient way to get from one place to another. 
This blog is a complete guide to Dubai Trams. We Provided a list of Dubai Tram Stations, Dubai Tram Map, Dubai Tram Fares, Dubai Tram Timings, etc…
Dubai's extensive public transportation network has played an important role in developing the emirate as a premier tourist destination. Multiple modes of transportation such as Dubai Metro, Dubai Tram, taxis, buses, and ferries operate in the city, providing a perfect experience for busy urban commuters.
In the past two to three years, Dubai's population has grown substantially. Due to the high capital investment in the market, the government has recognized the need to support it through auxiliary public services. After extensive research and with the help of urban development experts, Dubai provides citizens with a wide range of public transportation solutions. One of these initiatives is the Dubai Tram Network, which can help city residents easily navigate the new Dubai's major hubs, including Dubai Marina and JBR.
The Dubai Tram map below shows the route of the Dubai Tram and how it connects to the Dubai Metro and the Palm Jumeirah Monorail.
The Dubai Tram was built to connect the Dubai Metro to the Palm Monorail along Jumeirah Beach Road and Al Sufouh Road. Tour Dubai Marina, Jumeirah Beach Residence, and Al Sufouh Road passing Dubai Media City, Palm Jumeirah, and Dubai Knowledge Park. The service was launched in November 2014 to help reduce traffic congestion in these popular tourist areas. 
The Dubai Tram is a modern fully automated track system that uses platform display doors and alarms, such as audible beeps and flashing light signals to indicate opening and closing. Gate. Each tram can carry about 400 passengers, and there are taxis dedicated to women and children. You can also find gold-class cabins that provide passengers with more space and comfort.
Dubai Tram Stations (Stop)
The Dubai tram takes about 40 minutes from one end to the other; the tram departs approximately every 8 to 10 minutes, so passengers don't have to wait for a long time. 
The stops are:
1. Jumeirah Beach Residence 1
2. Jumeirah Beach Residence 2
3. Jumeirah Lakes Towers: Links with the Dubai Metro
4. Dubai Marina Mall
5. Dubai Marina: Links with the Dubai Metro
6. Marina Towers
7. Mina Al Seyahi
8. Media City
9. Palm Jumeirah: Links with the Palm Monorail
10. Knowledge Village
11. Al Sufouh
As you can see, two of the stations are connected to Dubai Metro and one station is connected to Palm Monorail. The sidewalk is designed to connect these different modes of transportation. The Dubai Metro consists of red and green lines and is one of the largest driverless metro networks in the world. The Palm Jumeirah Monorail connects the famous Palm Island with the mainland of Dubai.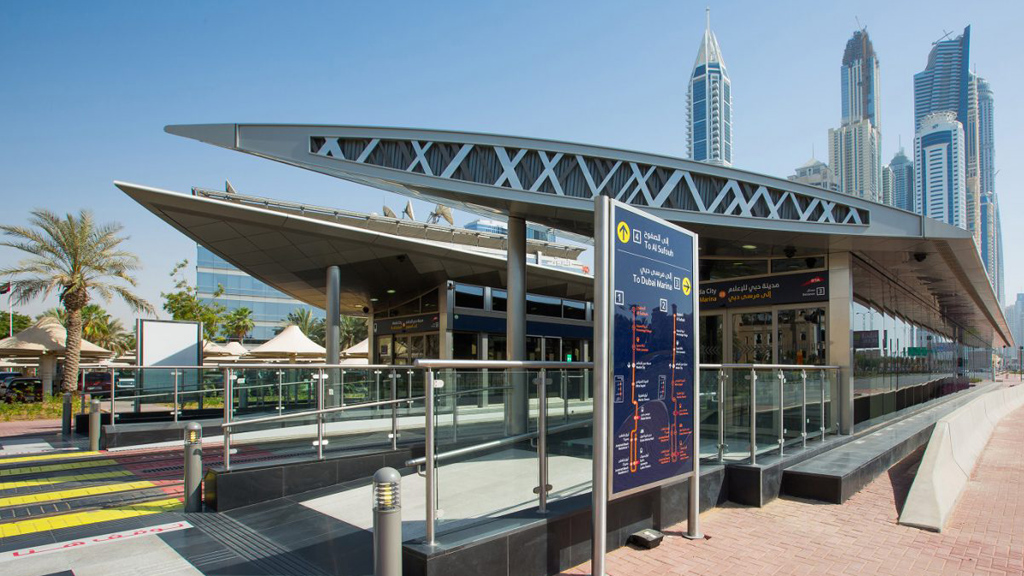 The Dubai Tram operates Saturday to Thursday from 6 am to 1 am. Hours on Friday are 9 am to 1 am.
Operating hours changed to the above in November 2017.
There is only a 10-minute interval (12-minute at off-peak hours) between trams so no timetable is necessary. A trip along the entire route takes just over 40 minutes.
Dubai Tram Facilities & Equipment
Wi-fi on the move

Wi-Fi access throughout the Metro network.Complete mobile phone coverage across the entire network.

Mobile Coverage

Complete mobile phone coverage across the entire network.

Emergency Call Box

Emergency Call Box (ECB) available in each train and station.

Dedicated Metro Police

Dedicated Tram Police force to enforce rules

Radio Link

Integrated radio system between the Metro and emergency services.
Dubai Tram Tickets & Fares
Use the Nol card to pay, the system is used to pay for travel on the Dubai Metro and public buses. The cost of the Dubai Tram is 3 dirhams (or 4 dirhams for people using Red Nol tickets), regardless of the distance traveled. Gold Class price is 6 AED.
Read more about Dubai Tram Route Project
The project has been accelerated by the Dubai Roads and Transport Authority and opened in 2014.
In 2007, a government official determined that the cost of congestion accounted for 3.15% of GDP. The growth of vehicles is uncontrolled, and the trend will be that by 2020, the number of registered cars will exceed 5 million. The impact is mainly concentrated in the city.
RTA began to solve this problem by updating and expanding the bus fleet, and at the same time introduced low-emission vehicles for taxi operations in Dubai, and the RTA metro system will begin to provide revenue services at the end of 2009.
Consulting firm MVA and its parent company Systra has been participating in Dubai's public transportation planning since 2004. the principal rail outcome being the Metro project. The tram mode was recommended to match the district's need for closely spaced stops to service commuter and tourism demand. It also will make RTA's coverage more comprehensive for wholly public transport journeys.
In April 2008, RTA signed a phase one project delivery contract worth 550 million euros with the ABS consortium in June. ABS is composed of Alstom from France (about 300 million euros of which), Belgian construction company Besix and British multi-sector operator Serco.
Al Sufouh is the first external tramway line where every station corresponds to a landing door, the system is fully customizable. Adapting to different RTA parameters, including shelter, and air conditioning with a natural temperature of around 40 °C increases the attractiveness of customers.

Another innovation is the use of the complete Alstom channelless Ground Power (APS) system to drive trams on the ground whilst overhead. 
APS has been used on some Bordeaux tram lines since 2003 and is expected to be used in other French cities such as Anger, Reims, and Orleans, but this is the first widespread implementation of this system. 
As with third-rail pick-up being specified for Dubai Metro Map, the authorities wished to avoid what is considered visually intrusive overhead line equipment. To facilitate public transport, both stations, Damac Property and JLT, cross the red pedestrian line via a pedestrian bridge. 
Terminal 9 is connected to the Palm Jumeirah Monorail at 9 Al Sufouh Street on the shores of Palm Jumeirah Island and has an 11-story warehouse with 25 trams, an operations management center, a maintenance workshop, a garage, a warehouse, and an office building. formation. Four pedestrian bridges with roofs with escalators for tram drivers. Two bridges were built on Al Sufouh Street, accessible from both sides of the road. Two other bridges connect Tecum and Dubai Marina Mall across the street.
Video Courtesy: Dubai Tram Map
We are sorry that this post was not useful for you!
Let us improve this post!
Tell us how we can improve this post?