Dubai Marina Walk and Views
Dubai Marina is one of the most vibrant and luxurious destinations in Dubai, known for its stunning waterfront, modern architecture, and endless entertainment options. Developed in the early 2000s, Dubai Marina has become a popular spot for tourists and locals alike, attracting visitors from all over the world.
The area boasts a plethora of attractions, including shopping malls, world-class restaurants, and exciting nightlife venues. Whether you're looking to explore the city's rich culture or simply relax by the beach, Dubai Marina has something to offer for everyone. In this guide, we'll provide you with everything you need to know to make the most out of your visit to Dubai Marina.
Location and How to Arrive
Getting to Dubai Marina is easy and convenient, as it is well-connected to other parts of Dubai through various modes of transportation. The most popular option is by metro, as the Dubai Marina station is located right in the heart of the area. From here, you can easily walk to many of the attractions and restaurants in the vicinity.
If you prefer to drive, there are plenty of parking options available, including both paid and free parking. Some of the popular parking spots include the Marina Mall parking lot and the Dubai Marina Walk parking lot.
Another option is to take a taxi or ride-hailing service, such as Uber or Careem. These are readily available and can drop you off right at the doorstep of your desired location.
Overall, no matter which mode of transportation you choose, getting to Dubai Marina is simple and hassle-free.
Things To Do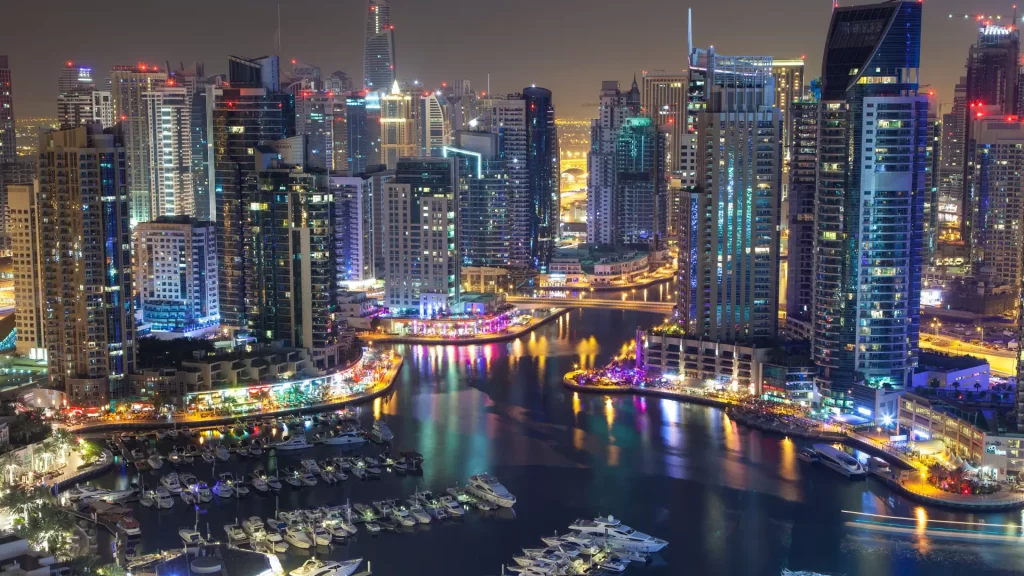 Dubai Marina is a bustling neighborhood that offers a plethora of activities and entertainment options for visitors. It is home to many spectacular sights and attractions that are worth exploring.  Here are the top things to do in Dubai Marina:
Dubai Marina Walk
Dubai Marina Walk is a popular waterfront promenade that stretches for 7 kilometers and is the perfect spot for a leisurely stroll or jog. The walkway offers stunning views of the Marina skyline, as well as access to many restaurants, cafes, and shops. You can also enjoy some of the best views of the Marina from the many benches or seating areas along the walkway.
Yacht Rental Dubai
Yacht rental is one of the most popular water activities in Dubai Marina. With its luxurious marina and stunning coastline, renting a yacht is an excellent way to explore the area and soak up the sights and sounds of the Marina. There are many yacht rental companies that offer a range of yachts and services, from luxury yachts to smaller, more affordable boats. You can rent a yacht for a few hours, a full day, or even overnight, depending on your preference.
Yacht rental is a great way to celebrate a special occasion, such as a birthday or anniversary, or to simply spend a relaxing day out on the water with family and friends. You can also enjoy a variety of water sports, such as jet skiing or paddle boarding, or simply relax and enjoy the stunning views of the Marina skyline. Whatever your preference, yacht rental in Dubai Marina is an unforgettable experience.
Marina Beach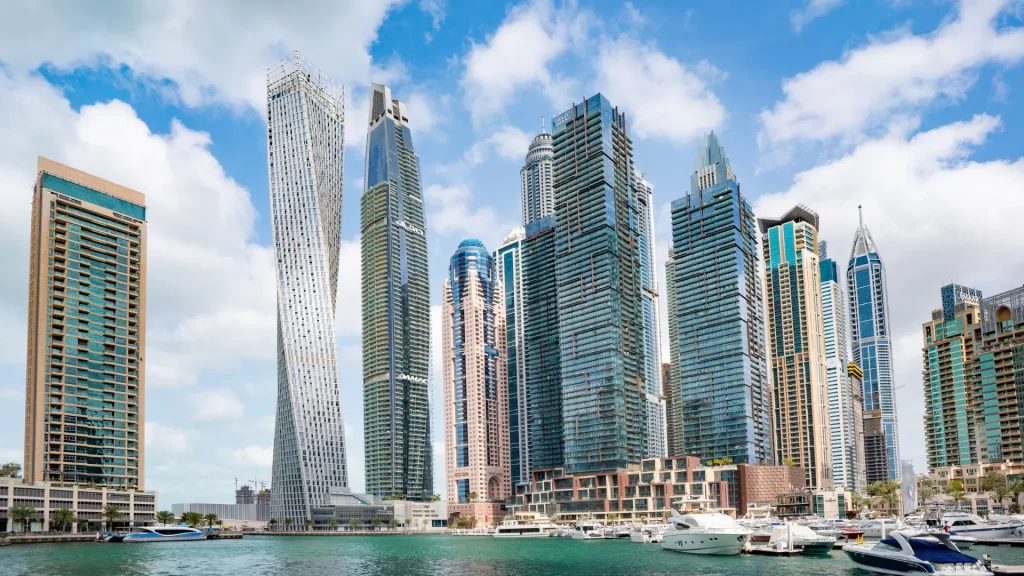 Marina Beach is a public beach located at the southern end of Dubai Marina. The beach boasts soft white sand and turquoise waters, making it a great spot for swimming, sunbathing, and water sports. You can rent beach chairs and umbrellas, and there are also various food trucks and cafes nearby.
Dubai Marina Yacht Club
Dubai Marina Yacht Club is a luxurious marina located in the heart of the Marina. It is home to a range of water activities, including yacht rental, fishing trips, and sunset cruises. You can also enjoy a meal at one of the many waterfront restaurants and cafes, or simply relax with a drink while admiring the stunning view of the Marina.
The Beach at JBR
The Beach at JBR is a lively beachfront destination located adjacent to Dubai Marina. The beach offers a variety of water sports and activities, as well as a cinema, a fitness center, and many restaurants, cafes, and retail shops. There is also a kids' play area and a splash pad, making it a great spot for families.
Dubai Marina Mall
Dubai Marina Mall is a multi-level shopping mall with over 140 stores, a cinema, and an indoor playground. The mall offers a mix of high-end and affordable fashion, as well as electronics, home goods, and beauty products. You can also enjoy a meal at one of the many restaurants or cafes, or catch a movie at the cinema.
Dining Options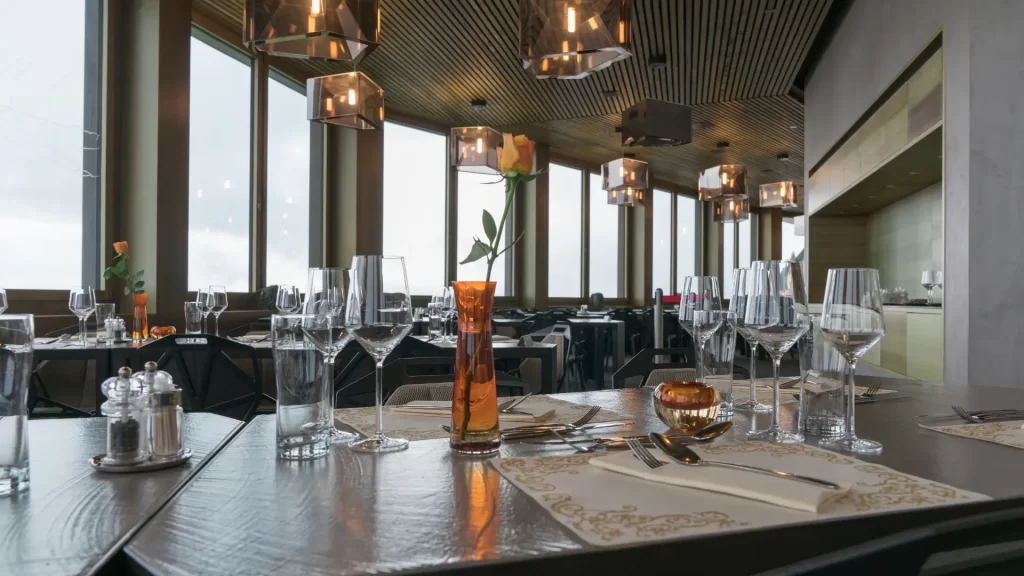 Dubai Marina is a food lover's paradise, with a vast range of dining options available to suit every taste and budget. Whether you're looking for fine dining, casual eats, or street food. Here are some of the top dining options:
Pier 7 is a seven-story building located on the Marina Walk, with each floor dedicated to a different restaurant and lounge. From Mediterranean cuisine at Atelier M to Japanese fare at Asia Asia, Pier 7 offers an array of dining options with stunning views of the Marina.
The Observatory Bar & Grill
The Observatory Bar & Grill is a rooftop restaurant and bar located on the 52nd floor of the Dubai Marriott Harbour Hotel. The restaurant serves international cuisine, and the outdoor terrace offers panoramic views of the Marina.
Buddha-Bar is a trendy Asian fusion restaurant and bar located at the Grosvenor House Dubai. The restaurant offers a variety of sushi and seafood dishes, as well as signature cocktails and an extensive wine list.
Zero Gravity is a beach club located on the Marina beachfront, with a pool, sun loungers, and a restaurant. The menu offers a variety of international cuisine, from burgers to salads, and the club also hosts regular events and parties.
Tips for Visiting Dubai Marina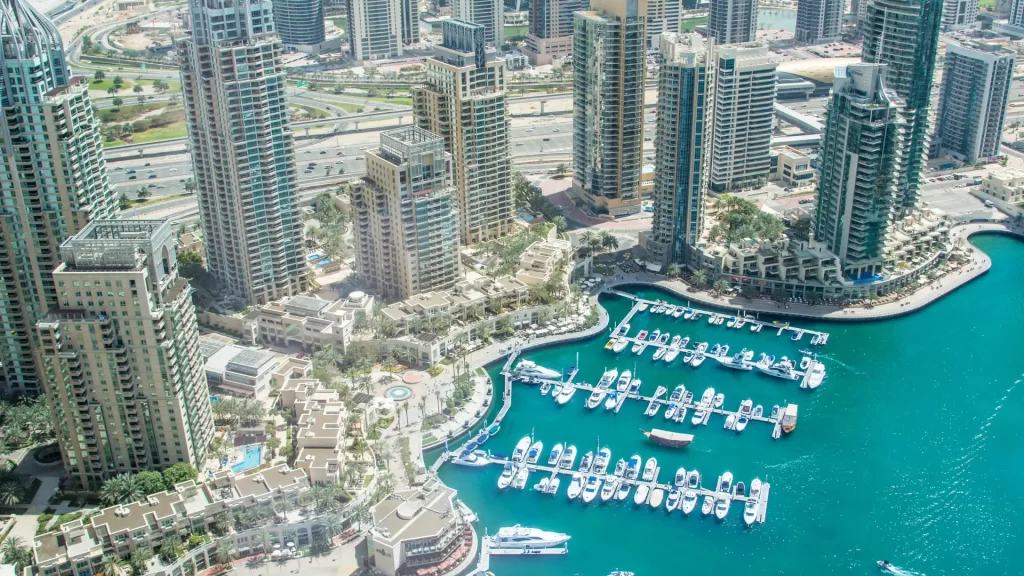 Visiting Dubai Marina can be an exciting and memorable experience, but it's important to be prepared and plan ahead. Here are some tips to help you make the most of your visit:
Dubai Marina is a busy area with limited parking, so it's recommended to use public transportation or taxis. The Dubai Metro's Red Line stops at the Dubai Marina station, providing easy access to the area.
Dubai is a conservative city, so it's important to dress appropriately when visiting Dubai Marina. While swimwear is acceptable on the beach, it's important to cover up when walking around the Marina.
Bring sunscreen and water
The city is known for its hot and humid climate, so it's important to stay hydrated and protect your skin from the sun. Be sure to bring plenty of water and sunscreen with you when visiting Dubai Marina.
Book activities in advance
Dubai Marina is a popular tourist destination, so it's important to book activities in advance to avoid disappointment. Whether you're interested in a yacht rental or a table at a popular restaurant, be sure to make reservations in advance.
By following these tips, you can have a safe and enjoyable visit to Dubai Marina and make the most of your time in this vibrant and exciting area.