Dubai Red Line Metro Stations & Map
Dubai has a lot of attractions to visit and as a citizen or tourist, there are a variety of ways to get around the city. You can take the most popular mode of public transportation with the Dubai Metro and bus. You can also take a taxi. But did you know that you can also use water taxis, book a car with a hailstorm app, or rent a helicopter? You can also rent a luxury car in Dubai, this could be a great option for you. Dubai is constantly changing and introducing new options to make it easier for commuters to travel.
The Dubai Red Line Metro is one of the two lines on the Dubai Metro network in Dubai, United Arab Emirates. The first section was inaugurated on 9 September 2009. Construction was declared complete on 28 April 2010 by Road & Transport Authority.
The line has 29 stations spanning 52.1 km (32.4 mi), which have been opened in phases from 2009 to 2011. It runs from Al Rashidiya to UAE Exchange (Jebel Ali) and travels along Sheikh Zayed Road for most of its length. Here you can find Dubai Metro Red Line Map, Expo 2020 map, Stations.
Dubai Red Line Metro Stations 2023
| English Name | Arabic Name |
| --- | --- |
| Rashidiya | الراشدية |
| Emirates | طيران الإمارات |
| Airport Terminal 3 | المطار- مبنى رقم 3 |
| Airport Terminal 1 | المطار- مبنى رقم 1 |
| GGICO formerly Al Garhoud | جي جي كو |
| Deira City Centre | ديرة سيتي سنتر |
| Al Rigga | الرقة |
| Union | الاتحاد |
| BurJuman formerly Khalid Bin Al Waleed | برجمان |
| ADCB formerly Al Karama | بنك أبوظبي التجاري |
| Al Jaffliya | الجافلية |
| World Trade Centre | المركز التجاري العالمي |
| Emirates Towers | أبراج الإمارات |
| Financial Centre | المركز المالي |
| Burj Khalifa/Dubai Mall | دبي مول / برج خليفة |
| Business Bay | الخليج التجاري |
| Noor Bank formerly Noor Islamic Back / Al Quoz | نور بنك |
| First Gulf Bank | بنك الخليج الأول |
| Mall of the Emirates | مول الإمارات |
| Sharaf DG | شرف دي جي |
| Dubai Internet City | مدينة دبي للانترنت |
| Nakheel | نخيل |
| DAMAC Properties formerly Dubai Marina | مرسى دبي |
| Jumeirah Lakes Towers | أبراج بحيرات جميرا |
| Nakheel Harbour & Tower | نخيل هاربر أند تاور |
| Ibn Battuta | ابن بطوطة |
| Energy | الطاقة |
| Danube formerly Jebel Ali Industrial | دانوب |
| UAE Exchange formerly Jebel Ali | مركز الإمارات العربية المتحدة للصرافة |
Dubai Red Line Metro Stations Map
Video: Dubai Metro Red Line Map
This is a simplified Dubai Metro Red Line Map With Green Line & With Expo 2020  New Dubai metro Route 2020 that shows the stations on both the Red Line, Green Line, and Route 2020. It additionally shows the zones that the stations lie in. The zone data is valuable for calculating fares. 
An extension of the Red Line to the Expo 2020 site was announced in December 2015. The extension project, named "Route 2020" will create a branch of the line from Nakheel Harbour & Tower to the Expo 2020 site, near Al Maktoum International Airport.
Nakheel Harbour & Tower Station is to be reconfigured to allow trains to operate on the new part of the line. The 14.5km extension will pass through Discovery Gardens, Dubai Investment Park, Al Furjan and Jumeirah Golf Estates and will have 8 new stations; 6 elevated and 2 underground.
As a result of increasing popularity of the Metro, the newly built stations will have platforms wider than those found in current stations, to cope with greater ridership. The extension is expected to be completed in 2018.
A second extension from Rashidiya to Mirdif is also proposed.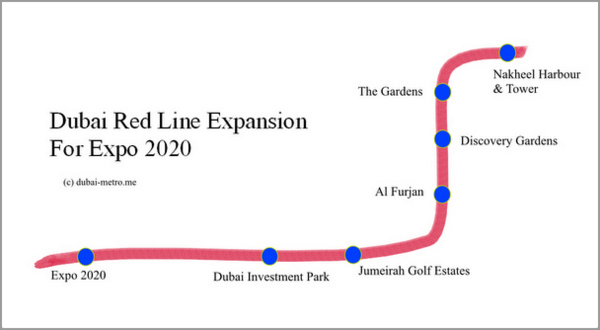 Dubai Metro a vital artery reshaping the desert and connecting Dubai a monumental witness to the emirate's growth & prosperity. Route 2020 project is the new 15 kilometers extension to the Dubai metro with 11.8 kilometers above ground and 3.2 kilometers underground. The route will link Jebel Ali station with the Expo 2020 site.
It features seven stations, five elevated ones & two underground with an overall project cost of 11 billion dirhams. Route 2020 boasts of the new Jumeirah Golf Estates station the biggest station on the entire Dubai metro network covering an area of 285,00 square meters and accommodating approximately 250,000 passengers daily.
Route 2020 is part of Dubai's ambitious plan to expand its rail network to cover new areas with a 270,000 population density and boost Dubai's economic growth creating new investment opportunities along the metro route all the way to the al Maktoum International Airport.
The exterior façade of route 2020 stations stands out architecturally from other stations along the red & green metro lines, the stations are fully integrated ensuring ease of transfer to other means of public transport. the modern interior designs of the new stations feature smooth seamless lines inspired by the surrounding elements of nature today as Dubai metro heads towards a new destination heralding Dubai to new horizons, it stands as a monumental witness to the power of will and sharp vision of a man who continues to champion change & the unwavering belief in Dubai's potential.
Seven stations on Route 2020
Dubai Metro Route 2020 has seven stations including one interchange station with the Red Line, one Iconic Station at the site of Expo, three elevated stations and two underground stations.
Jebel Ali Station.

The Gardens station.

Discovery Gardens Station.

Al Furjan Station.

Jumeirah Golf Estates Station.

Dubai Investment Park Station.

Expo Station.
We are sorry that this post was not useful for you!
Let us improve this post!
Tell us how we can improve this post?